Social Media Autopost Free WordPress Plugin 2019 is discussed here.This is a free wordpress plugin.Here 14 social media networks are available.
Just a single tap to share posts in all social media.We have already discussed about autoposting products on social media.This is the same thing with just one click.
It is easy to use and also available for editing the post format also.Premium version is available with more functions.
But the free version is well enough for beginners.Try this and comment on my youtube channel.Lets start about social media autopost free wordpress plugin 2019.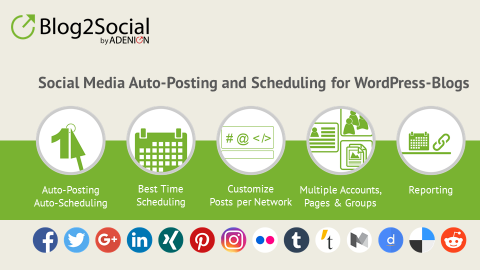 Social Media Autopost Free WordPress Plugin 2019
Blog2social is the plugin which I talked about earlier.Here 14 networks are available. Reshare post is also available. Calender to schedule the post.
Autoposting and scheduling is available in premium version.If you need you  can buy it.Lets start discussion about 14 networks
14 Networks are
Facebook
Twitter
Linkedin
Instagram
Flickr
Tumblr
Pinterest
Diigo
Xing
VK.com
Reddit
Medium
Torial
Bloglovin
With each network you can connect only single profile.If you need to add more buy the premium version.
After creating post,go and click customize autopost in the top of editor.Then it will redirect you to the post format.Post format is autogenerated by this plugin.
If you need to change the title,description,tags and pictures you can do it.After all the networks post is generated click on share button.
Then it will start posting in each social media.After finishing posting,it will be showing post is published.This is how you can do autopost in single click